Edwards tosses two-hitter, Riggers blank Tigers
---
---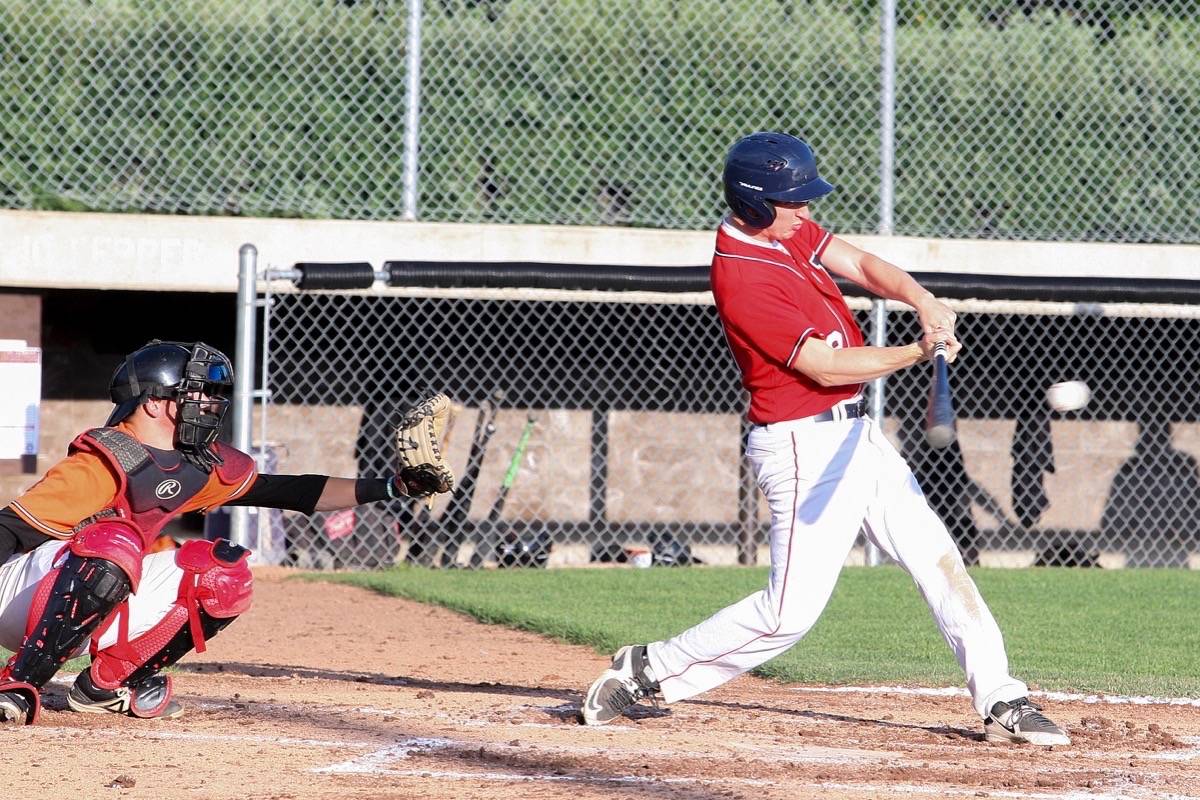 ---
Edwards tosses two-hitter, Riggers blank Tigers
Riggers 5 Tigers 0
A pair of pitchers did the majority of the damage for the Red Deer Riggers Tuesday at Great Chief Park.
The usual suspect, Josh Edwards twirled a masterful seven-inning gem, allowing only two hits in a 5-0 shutout of the St. Albert Tigers.
One of those hits came in the first inning and another single dropped in the seventh. Beyond that, the Riggers reliable lefty was virtually unhittable and struck out eight Tigers while walking just one in the 85-pitch outing.
"Tough to hit. He was living on the corners. Attacking every single batter. They didn't stand a chance against him. Guys were backward, every guy up there looked lost," said second baseman Joel Peterman.
"That's the Eddy we know. That's the Eddy we see every year at nationals, that's the one we see when playoffs roll around. It was fun to watch."
Peterman, who has mostly been relegated to a relief pitching role in his Riggers career, has emerged as a reliable option at second base this season.
He led the way offensively for Red Deer, with an RBI single in the second and two more RBI on a single the other way in the sixth.
It's been a long time since Peterman has considered himself a hitter, so he's trying to take a simple approach and it's working so far.
"I've always been able to hit. About 10 years ago when I went to college, I was told I wasn't good enough. Became a pitcher and gave it up," he said.
"I only have one mindset- hit a fastball. I'm not good enough to sit on anything."
Also a new parent, Peterman joked the might be helping at the plate, too.
"Working on it a little bit, had a kid, so I have a little bit of dad strength, which helps," he said.
Shayne Court had an RBI single for the Riggers in the second and Austin Hammond had a clutch two-out RBI single in the sixth before Peterman broke it open.
Despite the 5-0 score, Tigers pitcher Logan Blumhagen actually kept the Riggers off balance most of the evening. He allowed just six hits, struck out six and allowed five earned runs in the 100-pitch outing.
With the victory, the Riggers have won seven of their last eight games and are rolling as the season winds down.
Momentum over these last two weeks, with players starting to settle into their roles, has been key to success up and down the lineup.
"It's awesome. From the young guys right up to the vets, everybody has kinda settled into their role and we're starting to figure out how to win ball games," Peterman added.
Red Deer will play at Edmonton against the Conferedation Park Cubs on Wednesday, then play the following Monday and Tuesday to wrap up the regular season. They'll also play the 39th annual Riggers tournament from July 26-28.