Riggers pick up gritty win over St. Albert Tigers
---
---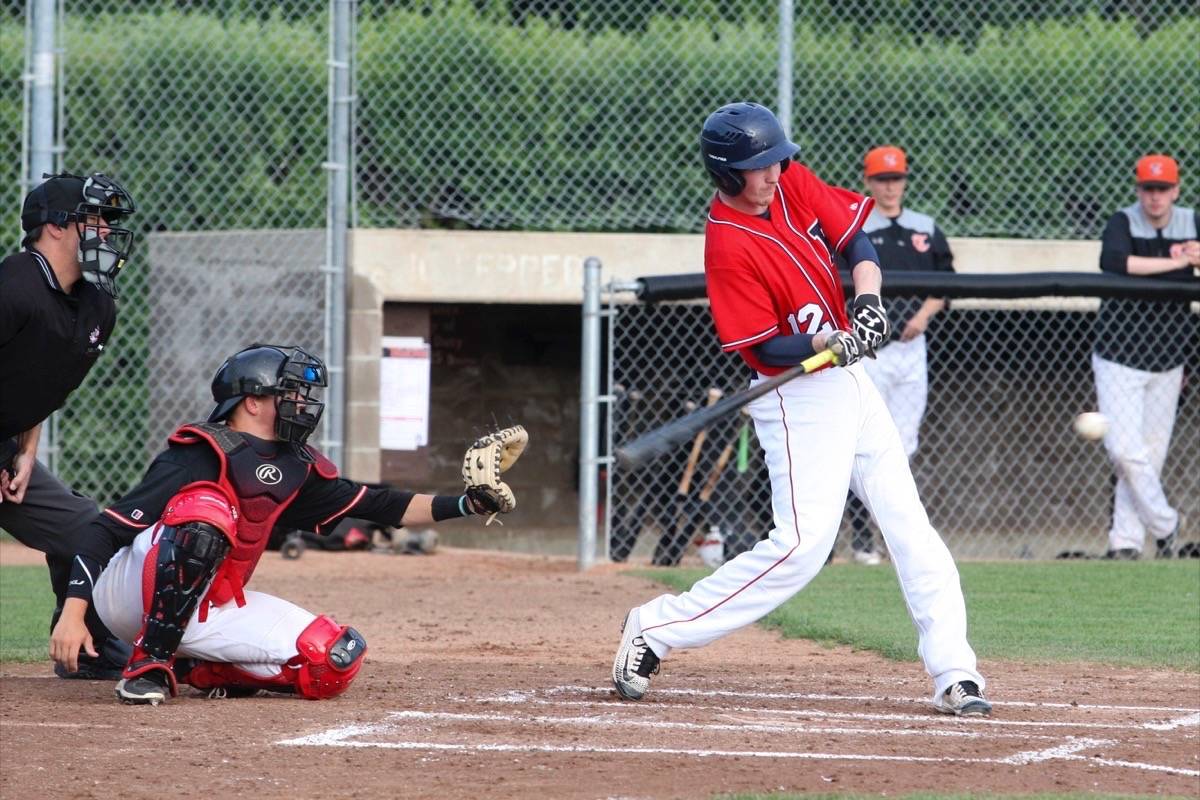 ---
Riggers pick up gritty win over St. Albert Tigers
Riggers 6 St. Albert 5
The Red Deer Riggers good fortune on home turf continued at Great Chief Park Tuesday.
With a little dash of luck mixed into the batter, Red Deer cooked up a 6-5 win over the St. Albert Tigers in Sunburst League action. They've won four straight games at home and are 7-5 on the season.
Trailing 5-4 in the bottom of the sixth, second baseman Joel Peterman ripped a line drive down the first baseline that just snuck past Tigers' Connor Bronson. Jaret Chatwood singled Peterman in to tie the game, then stole second and scored on a wild pitch to give Red Deer a 6-5 advantage.
Peterman then entered the game on the mound in the top of the seventh and earned the save in the victory.
Chatwood said the next man up mentality after losing some key guys in the offseason has been huge this year. Peterman stepping in with the clutch hit and the save to follow was a prime example.
"Classic Peterman. He's been doing that the whole time he's been here. He does anything you need. Comes in plays second and makes good plays. Hits double in the bottom of the sixth and then comes in and closes the deal," said Chatwood.
Ty Russell was another Rigger playing out of position in right field, he had a hit and RBI in the win while Brent Hittell also stepped in for a rare showing behind the plate catching.
"Things are starting to come around for us. We lost a few guys but the guys we have our starting to click and guys are starting to have good at bats. We're just a gritty team," Chatwood added.
"We just throw guys out there and everyone is playing a role. Everything is a team win right now."
Russell's RBI single came in the fifth and Dan Zinger notched a sacrifice fly in the inning to put Red Deer ahead 4-1.
On the mound for Red Deer, crafty veteran Davin Gulbransen cruised until the sixth. St. Albert scored four times in the frame, including a double by Tylor Jans that helped them to a 5-4 advantage. Through six complete innings, Gulbransen didn't walk a batter, struck out one and allowed five runs on six hits.
Red Deer opened the scoring on an RBI single from rookie Austin Hammond before the Tigers tied it up in the third. Red Deer stole back the lead in the bottom half when Chatwood scored on a wild pitch. He was 3-for-4 in the victory, with a double, two singles and an RBI.
"He threw me a couple of good pitches and I was on time tonight. Things went my way," Chatwood said.
Next up for the Riggers is a rematch with the Tigers on July 16. The Riggers will also host their annual tournament later this month, from July 26-28.